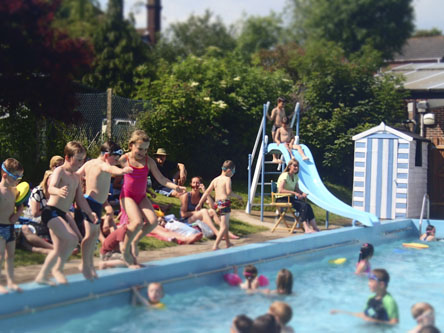 Please keep checking our website for when the
Pool will open in Spring 2018

Please see our latest fundraising events
Apply to join the new 100 Club
Please download this form to sign up!
Please come and join in with the fun!
Located at St John the Baptist primary school in Findon Village our swimming pool is supervised, heated, clean and safe for both children and adults alike.
With onsite changing rooms and a waterslide our pool is fun for all the family, and is OPEN TO ALL
Jun 15, 2018
Unfortunately the pool will be closed today as we are a supervisor short.  If you are able to occasionally volunteer as a pool supervisor for us, each public swim requires just over an hour of your time. If you are basic first aid trained then you are ready to go, otherwise we have a training session coming up very soon. Let us know if you are able to help us by contacting Sarah on 07954 995718 or via our  Findon Village Swimming Pool Facebook Page.
Jun 12, 2018
The swimming pool is now open for the 2018 season. Look forward to seeing you there!
Aug 31, 2017
We have done a chemical treatment on the pool so it will be closed today and tomorrow, Thursday 31st August and Friday 1st September. Sorry if this causes any disappointment.